Weird title, I know, but I think it's warranted for a weird book like Company by Max Barry.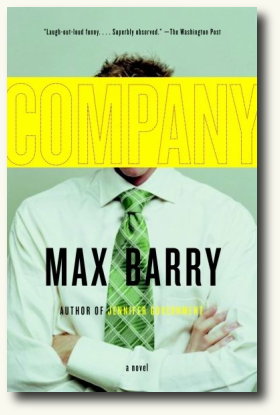 She frowns. "But then to get promoted, one of you has to climb over the other. No, no, it's much neater if you understand who's boss from the beginning."

This makes a kind of sense. Jones wonders if he is losing his grip on reality. Then he realizes he is being seduced by a woman with a throat infection on a bed dotted with used tissues, so the answer is probably yes. (254)
I finished this book tonight, and even though I didn't understand all of Barry's capitalist extemporizing, it was as much of a fun trip as his previous novel, Jennifer Government. In this novel, we are thrust into the world of Zephyr Holdings, a company steeped in mystery, especially to those who work there. We follow the main character, Stephen Jones (often just called "Jones") as he enters Zephyr on his first day of work, and as he meets and befriends his co-workers, he starts to look for answers that nobody else seems to know or care about. After one snap decision, he is no longer the same cog he was when he was hired; his relationship with the company changes, and so does his worldview until it spins out of control. This adventure into the inner workings of business is one full of secrets, lies, and uncertain allegiances that you wouldn't think would exist in a glass-paneled, unobtrusive, 20-story office building.
Though characters are hired and fired at warp speed throughout the book, we get to know a few of the ones who fall into Jones's clique throughout the story. His main cohort includes Freddy, a Ron Weasley-type character who just wants to do his job; Holly, a lonely corporate assistant who uses the gym as her outlet; Elizabeth, a mild-mannered sales rep who makes a startling discovery about herself; and Roger, a sneak with a megalomaniac streak and an affinity for baked goods. There's also Eve, the receptionist (or is she?) and Daniel, the janitor. All in all, though the threads of the characters are sometimes difficult to follow, the fact that they're all drones in the corporate world inverts its own stereotypes by making them more and more individual with each passing page.
Overall, I would definitely recommend this book. It starts off quickly and picks up speed, so fast that even if you don't fancy yourself a business person, you'll be finding yourself punching the clock to read more.
This book review was brought to you by procrastination on my prelims and the jewelry booth.