It happened to me again today.
Well, not really, but something close.
Maybe it's me, but it seems like it happens to me a lot more often than others.
Or maybe I just don't see it happening to anyone else but me.
"Where are the bathrooms?"
"How much are these towels?"
"How does this attach to my computer?"
These are questions commonly asked when I wear certain items of clothing to certain stores. I found this out the hard way, failed to correct my mistakes, and it happened again and again. It also does not help that I am a young, white male; many older female shoppers (read: many shoppers) tend to gravitate towards someone of my stature and build rather than, say, an older male, a non-white male, or an older woman. Younger women often get similar treatment, especially at places like Abercrombie or the Gap. It also does not help when I wear my keys around my neck like a lanyard; that really throws people for a loop. But to most, it's the clothes that meet the eye first, and the proliferation of consolidated American businesses mean that the consumer has gotten lazier about seeking help in stores. Behold…
That's So Jacob Presents: What Not to Wear, Retail Edition
Target: A red polo and khakis. This has happened to me several times, even when just wearing a red t-shirt. To be on the safe side, just never ever wear red to Target. Ever. This includes pink, magenta, maroon, scarlet, and crimson. Don't even wear red underwear to Target.
Best Buy: See above, but in blue. Also, avoid wearing glasses. Due to the extreme lack of employee care in a Best Buy, if you manage to  wear blue and escape the store without getting mobbed, consider yourself extremely lucky.
Apple Store: Similar to Best Buy, try to avoid blue and glasses. Bring a book to look super non-technological. Or even ::gasp:: a periodical.
Home Depot: If you left the house in plaid, go home, change, and spare yourself the incessant questioning on drill bits.
Starbucks: Avoid aprons. I am not sure why anyone would go to Starbucks in their apron unless they had just come in from the dairy, in which case, you better have a good explanation planned for your cows when you come back from your lunch break with a foreign-teated iced latte.
Any preppie mall shop: Don't go dressed to impress. Who wants fashion tips from a chick in sweats?
Any pharmacy (CVS/Walgreens especially): If you work as a nurse, veterinarian, or dental hygienist, do yourself a favor and have a spare outfit in your car for that emergency Twix, lunchtime Fiji water, or picking up dryer sheets on the way home. If you have an ID badge, they might actually put you to work.
Dollar store: Leave the acrylic nails at home. One look at your hands and they'll be asking you where the cosmetics are. However, if you do own acrylic nails and frequent the store, you could probably actually be of help to him/her.
Department store: Clinton and Stacy love blazers, but if you look too much like a perfume sprayer…you might be mistaken for one.
Airplane: Yeah, put the bomber jacket in your luggage unless you're preparing to take over in the cockpit in case of emergency. This would probably also be a good place where should someone ask you what you are wearing, call it an aviator jacket. And if you have a coordinated pantsuit or skirt suit and a brightly-colored scarf, don't be surprised if someone asks you when the in-flight beverage service is going to start.
Middle Eastern marketplace: Avoid caftans and turbans, unless you want to confuse the tourists and anger the locals. Thanks, Israel!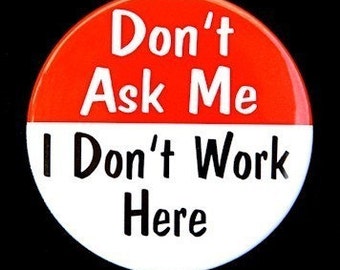 On the other hand, maybe I should dress like an employee and just pick up a paycheck. For being awesome.