Happy Syttende Mai, everyone!
For those of you who don't know, which is probably most of you, today, May 17, is Norway's independence day, or as they say, Syttende Mai. Here in Wisconsin, we have a lot of people from Germany and Scandinavia, so in the three years I've lived here, I've become more aware of some holidays I did not have growing up, but until this year, I hadn't a clue was Syttende Mai was.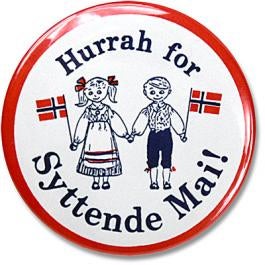 Here's how it happened: last week, I went to find some geocaches up in DeForest, a small town about 20 minutes north of Madison, and stopped in at Norske Nook, which is a chain of Norwegian restaurants in northern Wisconsin that opened here last year. I had a delicious salmon wrap in lefse, a Norwegian tortilla made of potatoes, butter, and magic. A table tent said that there would be specials for Syttende Mai, and it was coming up, so I made a mental note to come back.
So this morning, I woke up early and managed to get over there by 10:30. Surprisingly, it was not that busy. They had a special on Norwegian Pancakes (pancakes topped with strawberries, lingonberries, and a dash of whipped cream) for just $5.17, because of the date, and it was amazing. I love lingonberries, and they had a lingonberry double-crust pie on the menu, so I spent until almost noon sitting there with warm pie and constantly-refilled coffee, a la Kyle McLachlan in Twin Peaks.
This is the life.
Happy birthday, Norway!